Lazy Man's Cioppino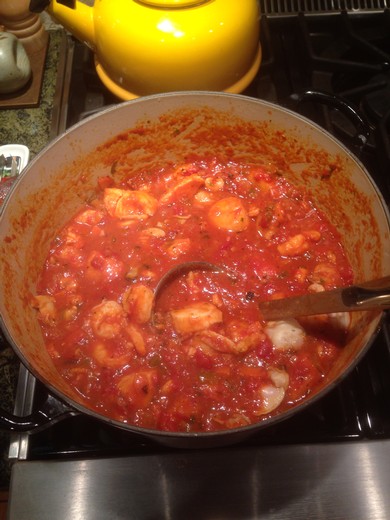 Recipe Date:
July 25, 2018
Measurements:
Imperial (US)
Ingredients
1/4 cup olive oil (preferably extra virgin)
4 cloves garlic, finely chopped
2 shallots, finely chopped
1 stalk celery, chopped
1 28 oz can crushed tomatoes with puree (preferably San Marazano))
1/2 tsp dried oregano
1/2 tsp dried basil
1 pinch crushed red peppers or ½ tsp Tabasco sauce (optional)
1/4 cup fresh Italian parsley, chopped
1/2 cup Michael Pozzan Russian River Chardonnay
Meat from one fresh Dungeness crab or ½ lb. of fresh crabmeat
1 lb large, fresh prawns, cleaned and de-veined
1 doz fresh manila clams, cleaned and scrubbed
12 large, fresh scallops
1 lb dry linguini or fettuccini
Salt and pepper to taste
Directions
Heat oil in a large Dutch oven. Sauté garlic, shallots and celery over medium heat. Do not let garlic burn. Add tomatoes, crushed pepper, both herbs, parsley and wine. Simmer for one hour on medium low. Season with salt and pepper. If sauce seems too thick, add water or chicken broth. At this point, the sauce can be made a day ahead and would be even better.
Cook pasta according to directions on the package. After sauce has finished cooking, turn up the heat slightly and add scallops and prawns. Do not boil. Cook for 10 to15 minutes. Add clams and cover until the clams open. Discard any clams that do not open. Add crabmeat and warm through. Toss with cooked pasta. Drizzle a little extra virgin olive oil over each individual serving.