Zuppa di Minestrone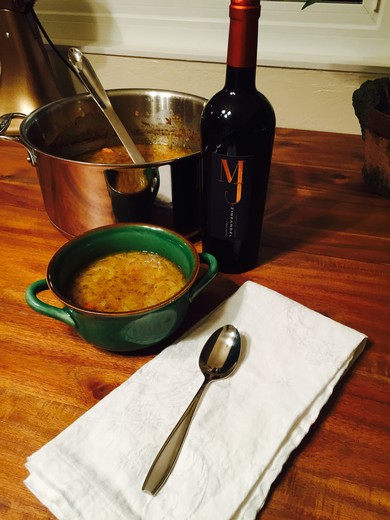 Recipe Date:
August 6, 2018
Measurements:
Imperial (US)
Ingredients
1 clove garlic, chopped
1 large onion, chopped
2 medium zucchini, ¼ inch slices, and then quarter slices
2 carrots
1/2 head cabbage, chopped
1 12 oz jar Borlotti beans, drained and rinsed
1 tbsp prepared pesto OR 2 tsp of fresh chopped basil
8 cups chicken broth
1 lb ham hock, rinsed (have butcher cut into three pieces)
1 tbsp pastina
Salt and pepper to taste
Olive oil
Directions
Add 1 Tbsp of olive oil to pan. Sauté carrots for 5 minutes then push to outer edge of pan. Add onion and cook until transparent. Add zucchini and sauté 2 to 3 minutes. Stir in cabbage and garlic and cook until limp. Add ¼ tsp of pepper and stir.
Pour 8 cups of chicken broth over vegetables. Drop in pesto. Add 1/3 of the beans and with the back of a fork smash the remaining beans in the jar. Add to soup. Stir mixture until well blended. Add rinsed ham hock and bring to boil. Add pastina. Reduce to low heat; cook uncovered for a minimum of 1 hour. May simmer up to 3 hours for additional flavor. If soup begins to thicken too much, add additional chicken broth as needed.
Season with salt and pepper to taste. Serve in warm bowls and sprinkle with freshly grated Parmesan cheese.
Note: Given the natural saltiness of ham hocks, additional salt may not be necessary.