May 21, 2018 | Sales & Marketing | Matthew Pozzan
The Central Coast
Michael was on the road this week down in the Central Coast visiting one of our favorite wine purveyors, Bevmo! He hosted a few tastings with some new vintages of our wines, and was thrilled with our Sailors Grave Napa Valley Cabernet Sauvignon (a favorite of ours) and the Michael Pozzan Russian River Pinot Noir. Russian River produces incredible Pinot Noir & Chardonnay and we are lucky enough to have forged strong relationships with growers to continue with that fruit source.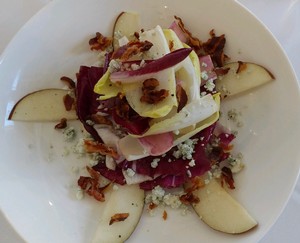 His next stop was the beautiful city of Carmel, where he enjoyed a great lunch at 7th & Delores. If you're not hungry, you might be after seeing these pictures! He started with a endive salad with sliced red pears and gorgonzola cheese and moved on to a grilled octopus with braised greens and gigante beans in a Romesco sauce. And of course the wine that pairs well with the dish? The Michael Pozzan Russian River Pinot Noir.
It was a short trip, but the beautiful coastal weather and the wonderful dining experiences won't soon fade from memory.
Commenting has been turned off.