Pozzan Blog
The wine industry is a very large and uniqe business. While many of us drink wine on a regular basis there are general questions of what we do to produce and sell it. We hope that this blog offers some insight on what we do on a weekly basis written by members of the family.

September 20, 2018 |
Matthew Pozzan
We are bringing in the whites! We have finished Sauvignon Blanc and now Semillon as of yesterday. With the weather cooler this summer and everything being pushed back a couple weeks, we get to sit and sort without dying in the heat! However, the days are still long with much of the time waiting for the fruit to be picked and then to arrive at the winery for processing. Here are a few tons of Semillon from Yountville that will all be used in our Michael Pozzan Sauvignon Blanc.
There are many stages in winemaking where your actions can greatly affect the quality. Sorting is one of those main steps. The goal here is to take out all things that aren't grapes. There is a destemmer at the end of the conveyor belt that seperates the grape berries from the stems and funnels the grapes to the tanks. Therefore many of the things you try to find while sorting are leaves, mold and little critters like stink bugs that can alter the taste of wine. Since these grapes were harvest by hand, you do not get critters like lizzards or snakes that are more common if you were to harvest by machine.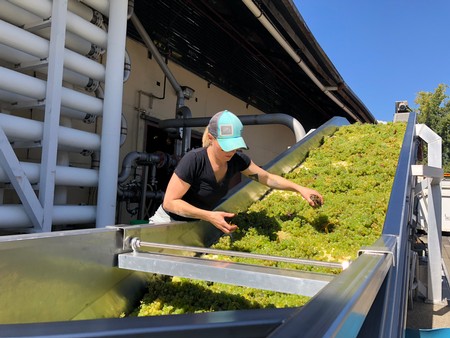 For Molly and I, we really only needed to focus on the leaves since the fruit was picked pretty clean. Sorting the dead leaves is not that big of a concern in comparison to the bright green ones that made its way into the bins. The phenolics that are still present in the leaves can make the wine have undesirable flavors such as a green bell pepper or vegetative taste. These flavors can also develop due to soil type or from too much canopy on the vine that was not cut back enough when pruning. It wasn't long until we were covered with grape juice, making our hands and arms very sticky. Bits of grape pulp magically find their way all over the body; appearing in your hair, back and legs. The only remedy is a hot shower to wash it all off. And later, a cold beer to ease your back from being hunched over sorting.

September 10, 2018 |
Michael Pozzan
Our winemaker Molly Lyman sent this to one of our distributors and I thought I should share this harvest update as well:
"The harvest is off to a slow but optimistic start. The crop in the vineyards looks ample and even, but largely temperate days throughout late July and August have things measuring a bit late on the comparative scale (vs the last few years). I harvested a Napa Valley Sauvignon Blanc vineyard this week on September 4th, for example, and it's the first time since I began working with this fruit five years ago that it hasn't been ready in August (historical dates were Aug 18-24). The general word on the street (throughout California) is that harvest is on a ~two week delay. The good news is that the crop seems to be heavy and of good quality. And sunny, dry days with milder temps afford the grapes more time in developing flavor and phenolic maturity, versus high temp days which force sugar accumulation regardless of any other markers of ripeness."
We look forward to getting harvest underway and into winemaking!