September 29, 2017 |
Michael Pozzan
I was a presenter last weekend at the legendary Epcot Food and Wine Festival at Walt Disney Resort in Orlando, Florida. We were thrilled that the festival was still able to take place after Hurricane Irma. Orlando came out pretty good compared to the Florida Keys – Disney World only closed for 2 days to be on the safe side. By the time we arrived the resort was bustling and looked to be totally in order.
We had over a 100 people at our tasting event. I shared some history of our family and Michael Pozzan Winery. Mary Ann and I started the business on a shoestring budget and only produced 200 cases our first year. We've since grown production to over 125,000 cases. I tasted the group through the Michael Pozzan 2016 Russian River Chardonnay, 2012 Sailors Grave, and Annabella 2015 Cabernet – which was showing exceptionally well.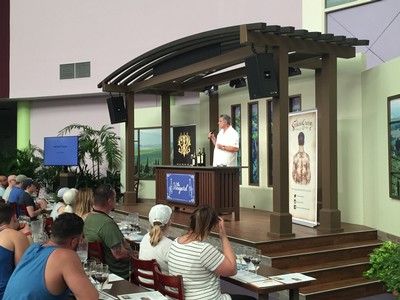 One highlight of the trip was a question and answer session after the tasting. I was also able to chat with guests one-on-one during a bottle signing, where we sold out of the Sailors Grave! Luckily, we have the new vintage ready to go.
The food was another highlight of our trip. We went to two fantastic restaurants and had meals we will not soon forget. First, our family had dinner at Il Molino at the Disney Swan Hotel. We started with a wonderful caesar salad and linguini marinara, and finished the meal with Veal and Eggplant Parmesan. We enjoyed a gorgeous Italian red blend to compliment the food.
Next we dined at the California Grill, where manager Andrey took exceptional care of us. Our table was overlooking the Disney Castle, and the evening ended with a firework show. They currently have the Michael Pozzan 2014 Russian River Pinot Noir as part of their wine list, so we enjoyed a bottle with our meals of grouper, filet & risotto, and a lobster tempura roll. A sincere thanks to Florida for hosting us on such an outstanding trip!